William Webb Ellis was the second son of James Ellis and Ann Webb, they were married in Exeter in 1804. He was born on 24th November 1806 in Salford near Manchester in the county of Lancashire. James, an officer in the Dragoon Guards was killed at the Battle of Albuera in 1812*, Mrs Ellis decided to move to Rugby, Warwickshire in order that William and his older brother Thomas could receive a good education at Rugby School.
As a local foundationer a pupil living within a radius of 10 miles of the Rugby Clock Tower they were allowed free schooling. The headmaster at the time when Webb Ellis enrolled at Rugby School in 1816 was Dr Wooll. William attended the school from 1816 to 1825 and he was noted as a good scholar and a good cricketer, though it was noted that he was 'rather inclined to take unfair advantage' at football.
After leaving Rugby he went to Brasenose College, Oxford University in 1825, aged 18. Illustrated below is a letter in the museum collection written by Mr William Webb Ellis. on the reverse is a certificate of residency signed by the principal of Brasenose College A J Gilbert. The letter is addressed to G Harris Esq, Rugby, Warwickshire. Webb Ellis was an 'exhibitioner' which was a sort of scholarship from Rugby School to Oxford University. The letter was required by the 'Trustees' of the school so that Webb Ellis' fees would be paid. The exhibition system came into force as part of an Act of Parliament relating to Rugby School in 1777. WHD Rouse in his history of Rugby School lists the Act and this quote is directly from this book:
"Ninth - The Trustees, or the major Part of them, to elect and send, at such Time or Times as they shall think proper, Eight Boys to any of the Colleges or Halls in Oxford or Cambridge; the Sum of Forty Pounds a Year, by Half yearly payments, to be paid out of the Revenues of the said Charity Estate, to each Boy, for the term of Seven Years, and no longer; and to be called "THE EXHIBITIONERS OF LAWRENCE SHERIFF," and the number of such Exhibitioners, to be from Time to Time filled up in the Manner aforesaid: Which Boys respectively shall not be entitled to receive the same annual Sum of Forty Pounds, unless they shall actually reside Eight Months in the Year, in such Colleges, or Halls, and shall previous to such Payment, obtain a Certificate of such Residence, from the Master, or Head of each College or Hall." - WRRS128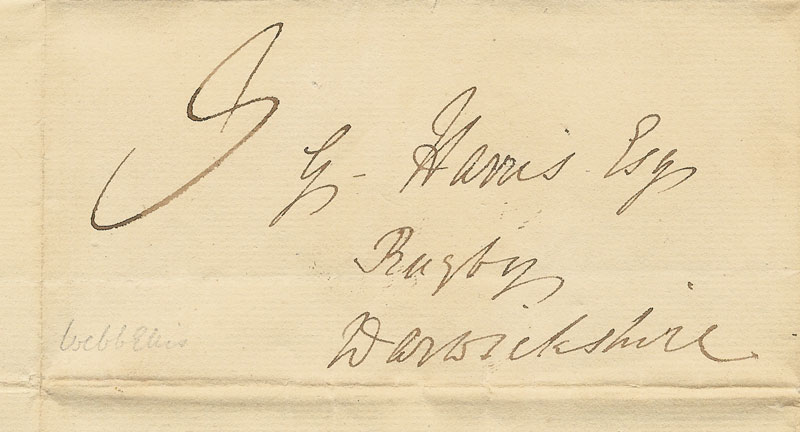 I hereby certify that Mr William Webb Ellis Scholar of Brazennose* College in the University of Oxford has completed between Michaelmas** 1825 and Michaelmas 1826 the usual residence required by the rules and regulations of the said college in regard to the members thereof.

Witness my hand this 27th day of October in the year of our Lord 1826

A J Gilbert, Principal

*the college name Brasenose derives from 'brazen' a door knocker in the shape of a nose

** Michaelmas term was the first school term dating from September/October to Christmas. It derives from St Michael's Day, 29 September.

Dear Sir

I have sent herein a certificate of the residence now required by the College & likewise the Trustees of Rugby School for Exhibitioners from there. I thank you for the form of the cer - tificate you gave my mother to be transmitted to me - with best respects

believe me Dr Sir

yours obliged

W W Ellis

Above is a short note Mr Ellis certificate of residence Michaelmas 1826 which looks to be a filing note, the letter was obviously held in a filing system for it to have survived almost 200 years

William Webb Ellis Letter (WRM.0947-ault-webb.ellis-WRM.uysss)
Above, the letter can be seen in it's entirety, it has a hole in it which would have been where a wax seal was placed, this has been removed, the seal may have been placed on the letter to authenticate the certificate or most likely as a postal charge. Prior to the introduction of postage stamps in 1840 letters were paid for by the receiver rather than the sender. Wax seals have been collected for centuries with Mithridates VI of Pontus 134-63 BC being the first noted collector.
At university Webb Ellis continued his sporting career with an innings of 12 in the 1827 Varsity cricket match. After university, he entered the Church and became chaplain of St George's, Albemarle Street, London and then rector of St Clement Danes in The Strand. His mother left Rugby at this point and joined him in London. When she died he erected a memorial in St Clement Dane's church which said "A mother, whose piety is recorded in Heaven and requires no praise upon earth... Her spirit rejoices in God her saviour. Let my last end be like hers." Unfortunately this memorial was destroyed when the church was hit by a bomb in WWII.

In 1855 Ellis became rector of St Mary's Church, Magdalen Laver in Essex where there is now a Webb Ellis stained glass window. Of particular interest to the rugby historian is that he founded the village school in 1862. This shows that Ellis had the vision to make changes that were of benefit to this community, a trait that he must have carried over from Rugby School where he possibly pursued changes in the rules of football.

| | |
| --- | --- |
| | A picture of him (the only known portrait) appeared in the Illustrated London News after he gave a particularly stirring sermon on the subject of the Crimean War. |

He left Magdalen laver in 1870 for the French Riviera most likely due to ill health and on 24 January 1872 William Webb Ellis passed away and is buried at Menton in the South of France.